How to raise money for Harlem United
Do you want to make a visible impact in the lives of vulnerable New Yorkers? Each year, dozens of Harlem United community members take their commitment to making an impact in their community to the next level. This is your invitation to make a difference.
And if you raise at least $3,000, we'd be honored to feature you in our annual report (with your permission, of course).
Donate a special event
Whether you want to give up gifts for your next birthday, anniversary, or graduation; or you want to dedicate your next race, hike, cross-country road trip, you can use Crowdrise to setup a fundraiser.
Check out Brian's birthday fundraiser for an example
If you want help setting up a fundraiser, contact Rachel Cutler at rcutler@harlemunited.org and she'll help you get started!
Run an official event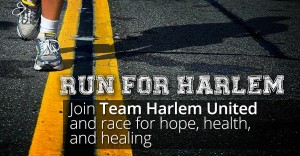 As an official New York Road Runners charity partner, we are able to offer guaranteed entry to the New York City Half-Marathon and New York City Marathon to supporters who raise funds to support our work.
Leave your name & email address and we'll let you know when charity registration opens for the next race.