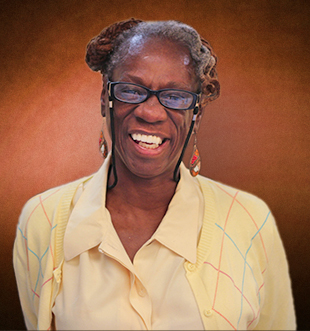 "All things work together for good to those who love God. We have to include this," Linda says, flashing her signature smile and reciting the verse from Romans 8:28 she knows by heart. Linda Hamptlon is the newest addition to Harlem United's team of receptionists, a position she earned after completing the Vocational Education program last year. "I hope I learn this quickly, I think I can," she says, looking up as she shifts expertly between phone calls and scheduling requests. For Linda, whose determination shines as brightly as her smile, success has become a way of life.
Today, Linda lives looking forward, but her journey to get here was hard. When Linda was 10, her friend's father gave her beer and cigarettes and molested her. The sexual abuse continued for years, and those first sips turned into a dependency on alcohol to mask the pain and the shame. As she got older, she turned to PCP and crack cocaine. She married a man who hit her with iron pipes and two-by- fours. When she finally escaped, she found herself homeless.
During the 1980s, Linda squatted in an apartment in the Bronx with her husband and stepson. She'd visit the run-down neighborhood tenements to buy drugs, get high and, often, pass out in the hallways overnight. She smelled so bad that the superintendent would walk by her in the mornings and tell her, "Linda, you stink," before throwing bleach on her as she lay there. He nicknamed her "Stinky Linda."
Later, during the 1990s, Linda moved the Kenmore Hotel, a single-room occupancy hotel that was so crime infested it was eventually seized by the government. Each night, she wandered the filthy hallways, knocking on doors offering sexual favors in exchange for money. In 1998, Linda was arrested and falsely accused of helping an undercover officer buy drugs. "I pleaded with God to take the taste of drugs out of my mouth." She entered detox and, shortly after, was diagnosed with H.I.V. She was scared. On the streets, Linda had seen friends with AIDS die slow, agonizing deaths.
Uneducated about the virus and unable to afford healthcare, Linda turned to Harlem United. There, she received medical and dental treatment, counseling, therapy, and a place to live. Linda says that Harlem United saved her life. "My self-esteem when I came here was lower than the gutter," Linda admits. "Once I walked through the doors, I found me. I can't see myself without Harlem United."
A few years ago, at the age of 66, Linda fulfilled a lifelong dream of becoming a bus driver. The day before her commercial driver's license exam, Harlem United's then-C.E.O. Patrick McGovern, took her out in a program van to help her practice and calm her nerves. "Harlem United is like a family," she says.
In October 2014, Linda celebrates her 17th year of being drug-and alcohol-free with Harlem United.