We Have A lot to Celebrate and More Work to Do!
This has been an amazing couple of weeks. Supreme Court decisions and budget and legislative sessions leave us with a lot to celebrate, but there is more work to do! Harlem United senior leaders, policy staff, staff advocates and consumers have travelled to Albany, Washington DC and City Hall to participate in countless meetings with legislators, demonstrations and press events.
Here's a snapshot of what we accomplished and important events that impact our community
On June 26, the New York City Council voted and adopted the budget for FY 2016. In addition to millions of dollars allocated to programs that serve people impacted by HIV, we were able to secure $3.9 million from the New York City Council and $1.1 from Mayor de Blasio in order to implement the Governor's Blueprint to End AIDS here in New York City.
On the state level we still have some work to do. We secured an initial investment from Governor Cuomo of $10 million to implement the Blueprint to End AIDS; however no additional funding was secured by New York State Legislature.
But two pieces of great news came from the Supreme Court last week! With their 6-3 decision on King v. Burwell, the Supreme Court has upheld subsidies for health insurance premiums in all states under the Affordable Care Act (ACA).
And … with a 5-4 decision in Obergefell v. Hodges, the Supreme Court announced on June 26th that the Constitution guarantees a right to same-sex marriage regardless of the state in which you live. The historic decision, authored by Justice Anthony Kennedy, says that gay and lesbian couples have a "fundamental right to marriage."
Over Pride weekend we kicked off our brand-new Swallow This campaign to educate our community about how PrEP can be used to prevent HIV.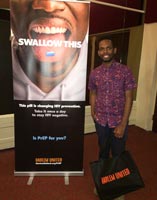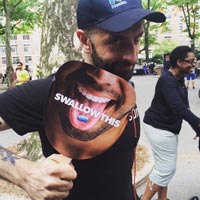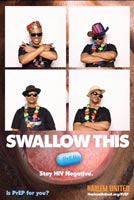 We're running ads online and across the city to raise awareness about this promising new prevention option. If you see an ad, snap a pic and tweet us at @HarlemUnited and with the hashtag #SwallowThis
Join us for the next Harlem United ACTS! Meeting on Tuesday, September 8th at 3 p.m., 123-125 West 124th Street. We'll be gearing up for the elections and 2016! For additional information, feel free to contact Kimberleigh Smith at ksmith@harlemunited.org
---