Running for a Reason: Alison Desir
Want to run the NYC United Airlines Half Marathon? Learn more about how you can get guaranteed entry to the race and a customized training plan at harlemunited.org/running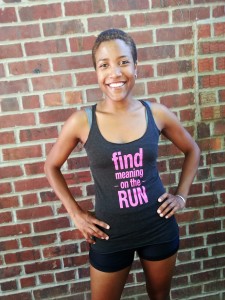 Alison Desir is probably superwoman—in running gear. She arrived to our meeting early, dressed to run, (of course), and was totally calm, despite being somewhere in the middle of her four-career day. "Everyone thinks I'm always about to go running," she laughed.  "This time of year, I usually am."
Alison is one of thousands of runners who run the New York City Marathon for charity. Each runner picks a charity and commits to raising $3,000 by race day. Lucky for us, Alison chose Harlem United as her cause. "I'm running with Team Harlem United because it stands for all the things I believe in: health, community, engaging the underserved. Plus, I'm a local. I was born in Harlem and I live there now." Harlem United has been a staple in New York City since 1988—originally founded to care for a community ravaged by the AIDS epidemic.  Since then, it has expanded to include high-quality healthcare and supportive services for people facing multiple complex issues, including homelessness, HIV and AIDS, Hepatitis C and other chronic illnesses, mental health issues, and chronic substance use issues.
Alison holds a BA in History, an MA in Latin American and Caribbean Regional Studies, and is currently an MA candidate in Counseling Psychology at Teacher's College. She is also a freelance writer, an adjunct professor of Sociology at Mercy College, and a certified coach. A firm advocate of the mind/body connection, Alison will use her degree to establish a series of running-based mental health programs in underserved communities. "In minority communities in particular, there is such stigma around mental health. Not only do minorities feel underrepresented by providers, they feel mental health care is just not for them."
In her "spare time," (does she sleep?), Alison heads up the Harlem-based running group, Harlem Run. The group, which meets on Monday nights, brings health, fitness, and the joy of running to anyone who cares to join them.  "No matter what pace you run, we always gather for a group yoga stretch post-run. It gets a lot of attention."
When I asked Alison how she got into running, she paused. Her first race was the San Diego Rock 'n' Roll Marathon in 2012.  At the time, she had just finished her first MA program and was struggling to find a job. "I started running because I was in a funk. Running became my transformation." Two years and countless races later, Alison has found her way through running. And if she ever feels like giving up? "I think of my father." Alison's father, a former ER physician, was diagnosed with Lewy Body Dementia in 2006. "I've witnessed how much Dementia has taken from him.  And yet despite the degenerative condition, he always pushes as hard as he can to be self-sufficient.  Anytime I feel like I can't run another step, I think of him and tell myself: surely you can run a few more miles."
Alison's goal pace is 3:50 but she asks that we "don't hold her to it." She plans to tell all of her friends to cheer along 5th Avenue in Harlem.
"I'm so proud to be running for Harlem United. We share the same values. Harlem United has always been unapologetic in the pursuit of its mission, pushing for the best services, all in the name of a community in need."
Want to run the NYC United Airlines Half Marathon? Learn more about how you can get guaranteed entry to the race and a customized training plan at harlemunited.org/running
---