Issues That Matter
Comparing the Candidates and Parties

There's a lot at stake in the 2016 election, and it's important to get the facts before you vote. Harlem United and Fenway Health have partnered to show you where the candidates and political parties stand on six key issues: LGBT equality, HIV/AIDS, healthcare, substance use, mental health, and housing.
Share the images below with the hashtag #IssuesThatMatter to demand that the candidates address these issues leading up to the election.
You can also read excerpts from the party platforms and candidate statements below and download our report, The 2016 Presidential Candidates On Important Health Equity Issues, for more details on the candidates' and parties' stances.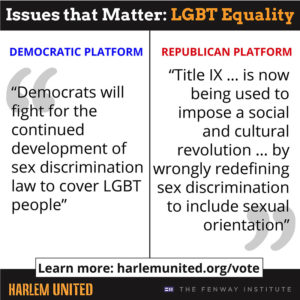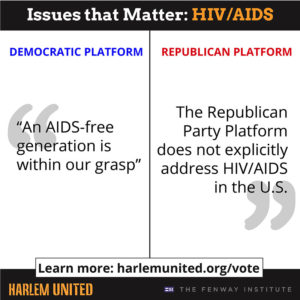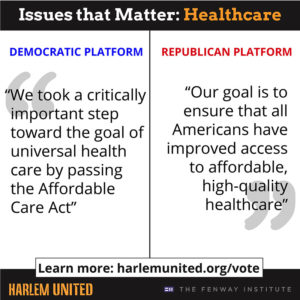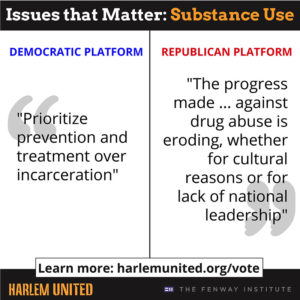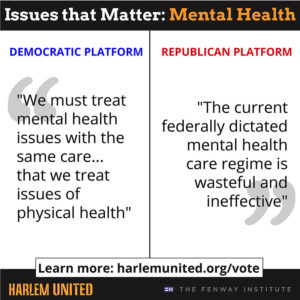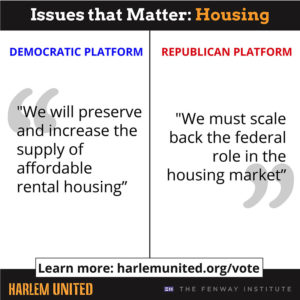 LGBT Equality

"In keeping with the Green Key Values of diversity, social justice and feminism, we support full legal and political equality for all persons, regardless of sex, gender, sexual orientation, or gender identity, characteristics, and expression."

"Democrats will fight for the continued development of sex discrimination law to cover LGBT people. We will also fight for comprehensive federal nondiscrimination protections for all LGBT Americans, to guarantee equal rights in areas such as housing, employment, public accommodations, credit, jury service, education, and federal funding."

 "Traditional marriage and family, based on marriage between one man and one woman is the foundation for free society and has for millennia been entrusted with rearing children and instill cultural values."

"Sexual orientation, preference, gender, or gender identity should have no impact on the government's treatment of individuals, such as in current marriage, child custody, adoption, immigration or military service laws."

"All people are entitled to full civil and human rights in America…regardless of race, religion, culture, gender, or sexual preference."

"As President, I will fight for passage of the Equality Act to secure full federal equality for LGBT Americans."

When asked if he would appoint Supreme Court justices to overrule the decision on same sex marriage, he said, "I would strongly consider that, yes."

"It has become clear to me that denying [marriage] rights and benefits to gay couples is discrimination, plain and simple."
Jump to: HIV/AIDS | Healthcare | Mental Health | Substance Use | Housing
---
HIV/AIDS

"An all-out campaign must be waged against AIDS/HIV and other blood-borne diseases such as hepatitis. The AIDS epidemic has not been adequately addressed at the local, state, federal, or international levels. All people in all countries, including those with AIDS/HIV, have a right to medical care, protection from discrimination, and confidentiality."

"Democrats believe an AIDS-free generation is within our grasp. But today far too many Americans living with HIV are without access to quality care and too many new infections occur each year."

The 2016 Republican Party Platform does not explicitly address the HIV/AIDS epidemic in the U.S, but it does state support for President George W. Bush's health initiatives, including AIDS relief under PEPFAR and the Global Fund to Fight AIDS, Tuberculosis and Malaria.

The 2016 Libertarian Party Platform does not mention HIV/AIDS in the U.S.

No quote available

"An AIDS-free generation is within our grasp"

No quote available

"Needle exchange programs in states that reduce HIV and Hepatitis C, you know, very controversial, but the bottom line is that it saves lives."
Jump to: LGBT Equality | Healthcare | Mental Health | Substance Use | Housing
---
Healthcare

"The Green Party supports single-payer universal health care and preventive care for all. We believe that health care is a right, not a privilege."

"We took a critically important step toward the goal of universal health care by passing the Affordable Care Act, which has covered 20 million more Americans and ensured millions more will never be denied coverage because of a pre-existing condition."

"Our goal is to ensure that all Americans have improved access to affordable, high-quality healthcare, including those struggling with mental illness."

"We favor a free-market health care system. We recognize the freedom of individuals to determine the level of health insurance they want (if any)…"

"We can create health care as a human right through an improved Medicare for All system of everybody in, nobody out, and you're covered head to toe and cradle to grave. You get your choice of doctor and hospital, and you and your doctor are put back in charge of your health decisions, not a profiteering insurance company CEO."

"We have more work to do to finish our long fight to provide universal, quality, affordable health care to everyone in America. Already, the Affordable Care Act has expanded coverage to 20 million Americans. As president, I will make sure Republicans never succeed in their attempts to strip away their care and that the remaining uninsured should be able to get the affordable coverage they need to stay healthy."

"I would absolutely get rid of ObamaCare. I want to keep pre-existing conditions. It's a modern age, and I think we have to have it."

"There should be a safety net out there regarding health care, and in no way are we saying that the safety net should be eliminated. At the end of the day, I'm going to sign onto any initiatives, really, that bring a free-market approach to health care. "
Jump to: LGBT Equality | HIV/AIDS | Mental Health | Substance Use | Housing
---
Housing

"Preserve and increase affordable housing supply."
"Enforce and strengthen the federal Fair Housing Act and other federal and state fair-housing laws that prohibit discrimination based on race, color, religion, gender, sexual orientation, disability, familial status and national origin."

"We will preserve and increase the supply of affordable rental housing by expanding incentives to ease local barriers to building new affordable rental housing developments in areas of economic opportunity."
"We will reinvigorate housing production programs, repair public housing, and increase funding for the housing choice voucher program and other rental assistance programs."

"We must scale back the federal role in the housing market, promote responsibility on the part of borrowers and lenders, and avoid future taxpayer bailouts."
"We call for a comprehensive review of federal regulations, especially those dealing with the environment, that make it harder and more costly for Americans to rent, buy, or sell homes."

"As respect for property rights is fundamental to maintaining a free and prosperous society, it follows that the freedom to contract to obtain, retain, profit from, manage, or dispose of one's property must also be upheld."
"Libertarians would free property owners from government restrictions on their rights to control and enjoy their property, as long as their choices do not harm or infringe on the rights of others."

"We will honor the right to decent affordable housing, including an immediate halt to all foreclosures and evictions."

"Housing can and should be a springboard to opportunity. But to get there, we need to make rental housing more affordable, open up more pathways to sustainable home ownership, and invest in communities that have been left out and left behind."

"There's no industry, other than probably the energy industry, that is more overregulated than the housing industry."

"There are currently two [programs] that I advocate abolishing: the Departments of Education and Housing and Urban Development (HUD)."
Jump to: LGBT Equality | HIV/AIDS | Healthcare | Mental Health | Substance Use
---
Mental Health

"Enact a universal, comprehensive, national single-payer health plan that will provide…with no increase in cost… A mental health care system that safeguards human dignity, respects individual autonomy, and protects informed consent."

"We must treat mental health issues with the same care and seriousness that we treat issues of physical health, support a robust mental health workforce, and promote better integration of the behavioral and general health care systems."
"Recognizing that maintaining good mental health is critical to all people, including young people's health and development, we will work with health professionals to ensure that all children have access to mental health care."

"The current federally dictated mental health care regime is wasteful and ineffective, and moving to a block grant approach would allow for state and local governments to create solutions for individuals and families in desperate need of help in addressing mental illness."
"We need to reform our mental health programs and institutions in this country. Families, without the ability to get the information needed to help those who are ailing, are too often not given the tools to help their loved ones."

Does not specifically address mental health care

"We have to address the other drivers of community violence. That includes ensuring that mental health services are available to everyone. Mental health services have been cut back in a major way with all the cuts to healthcare."

"I believe that together we can make sure that the next generation gets quality mental healthcare without shame, without stigma, without barriers."

"I feel that the gun-free zones and, you know, when you say that, that's target practice for the sickos and for the mentally ill. They look around for gun-free zones."

No quote available
Jump to: LGBT Equality | HIV/AIDS | Healthcare | Substance Use | Housing
---
Substance Use

"Greens call for an end to the "war on drugs", legalization of drugs and for treating drug abuse as a health issue. The 'war on drugs' has been an ill conceived program that has wasted billions of dollars misdirecting law enforcement resources away from apprehending and prosecuting violent criminals, while crowding our prisons with non-violent drug offenders and disproportionately criminalizing youth of color."

"We will continue to fight to expand access to care for addiction services, and ensure that insurance coverage is equal to that for any other health conditions."
"We should help state and local leaders establish evidence-based, age-appropriate, and locally-tailored prevention programs. These programs include school-based drug education programs that have been shown to have meaningful effects on risky behavior."

"The progress made over the last three decades against drug abuse is eroding, whether for cultural reasons or for lack of national leadership."
"In many jurisdictions, marijuana is virtually legalized despite its illegality under federal law."

"We favor the repeal of all laws creating 'crimes' without victims, such as the use of drugs for medicinal or recreational purposes."

"Substance abuse should be treated as a health issue, not as a crime."

"We're not just now 'discovering' this problem. But we should be saying enough is enough. It's time we recognize as a nation that for too long, we have had a quiet epidemic on our hands. Plain and simple, drug and alcohol addiction is a disease, not a moral failing—and we must treat it as such."

"It's very hard to get out of that addiction of heroin. That's the other thing we're going to do: We're going to take all of these kids — and people, not just kids — that are totally addicted and they can't break it. We're going to work with them, we're going to spend the money, we're gonna get that habit broken."

"We are not espousing the legalization of any drugs outside of marijuana."
Jump to: LGBT Equality | HIV/AIDS | Healthcare | Mental Health | Housing
Don't forget: Download our report, The 2016 Presidential Candidates On Important Health Equity Issues, for more details on the candidates' and parties' stances.