On World AIDS Day, a look back at 2014
JANUARY:

Inauguration of Mayor de Blasio
Bill de Blasio, was sworn in as New York's 109th mayor. His election ushered in a new, progressive city administration. De Blasio, who campaigned on a platform of eliminating inequality, is the first liberal official to serve as the city's top executive in 20 years. The new mayor appointed Steven Banks, former head of the Legal Aid Society as the commissioner of the Human Resources Administration and Mary Bassett, Columbia Professor and former deputy commissioner at the New York City Health Department, to lead the Department of Health and Mental Hygiene. Letitia James and Scott Stringer, were also sworn in as Public Advocate and Comptroller, respectively.
FEBRUARY:

30% Rent Cap
The 30% rent cap agreement ensures that poor individuals and families living with AIDS and HIV have their rents capped at no more than 30% of their income, thereby providing affordable and stable housing.
MARCH:

NYC Half marathon
On March 13, seven runners with Team Harlem United took to the streets for the New York City Half Marathon. In total, the team raised close to $8,000.
APRIL:

AIDSWatch

Harlem United participated in the largest annual national constituent-based advocacy event focused on HIV and AIDS in the United States.
AIDSWatch
brought together over 300 grassroots activists from 27 states to call on Congress to support efforts to end the HIV/AIDS epidemic.
MAY:

New York City AIDS Fund Learning Lab; AIDS Walk
Harlem United was one of nine organizations selected to participate in the New York City AIDS Fund Learning Lab, an intensive program to provide an overview of managed care models, related changes in funding and regulations, and the roles that HIV/AIDS service organizations can play in New York City.
Nearly 50 Harlem United staff and clients participated in the 29th Annual AIDS Walk. The walk raised more than $3 million for 40 organizations offering housing, medication and clothes to people living with AIDS and HIV, as well as educating young people about safe sex.
JUNE:

Plan to End AIDS; Harlem United at the White House

Just before the annual Pride march, Governor Cuomo announced a plan to "end AIDS" in New York State, called Bending the Curve. The goals of the plan are the following:
Identifying persons with HIV who remain undiagnosed and linking them to health care;
Linking and retaining persons diagnosed with HIV to health care and getting them on anti-HIV therapy to maximize the suppression of HIV in the body so they remain healthy and prevent further transmission; and
Providing access to Pre-Exposure Prophylaxis (PrEP) for high-risk persons to keep them HIV negative.
Harlem United's Chief Operating Officer and Vice President for Policy and Advocacy, joined hundreds of LGBT advocates and allies from across the country at the annual Pride Reception held in the East Room of The White House. President Barack Obama announced plans to prepare an executive order extending employment protections to transgender and gender non-conforming federal employees and urged the community to keep fighting for an AIDS –free generation.
JULY:

International AIDS Conference in Melbourne
Even with a somber and reflective tone in the wake of the downing of MH17, the International AIDS Conference – AIDS 2014 – took place in Melbourne Australia. The conference is the premier gathering for those working in the field of HIV, as well as policy makers, persons living with HIV and other individuals committed to ending the pandemic. Harlem United presented on PrEP and signed on, along with 30 other organizations, to a joint statement demanding undetectable HIV viral loads for all by 2020.
AUGUST:

Doug Brooks Visit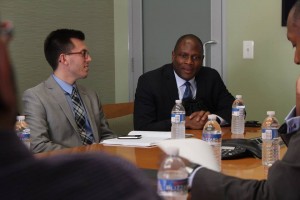 Douglas M. Brooks, Director of the Office of National AIDS Policy (ONAP), met with Harlem United staff and clients to gain insight into how Harlem United is advancing the National HIV/AIDS Strategy through comprehensive programs and services. The visit preceded "Dialogue for Life," a regional ONAP listening session led by Mr. Brooks and co-sponsored by ACRIA and Amida Care.
SEPTEMBER:

Reach Week
Reach Week brings together people from all over the world for a week-long healing/educational crusade. Harlem United participated in the HIV/AIDS Prevention, Intervention, Testing, and Treatment educational activities.
OCTOBER:

United States Conference on AIDS in San Diego
The 18th annual United States Conference on AIDS (USCA) highlighted how the Affordable Care Act can help us draw even closer to ending the AIDS epidemic, while focusing on the challenges we still have to overcome to achieve this vision. USCA is the largest AIDS-related gathering in the US, bringing together thousands of workers from all fronts of the HIV/AIDS epidemic to build national support networks, exchange the latest information and learn cutting-edge tools to address the challenges of HIV/AIDS.
NOVEMBER:

Task Force to End AIDS
The Advisory Council is a high-level task force formed in response to Governor Cuomo's declaration to end AIDS in the state of New York by 2020. The development of the task force comes on the heels of steady encouragement by Harlem United and other community based organizations that will be important resources for the successful implementation of the plan. As part of the task force, high-level HIV and AIDS experts statewide will develop a strategic roadmap for how best to carry out the Governor's plan. Kimberleigh Smith, Vice President of Policy & Advocacy, was appointed to represent Harlem United!
DECEMBER:

World AIDS Day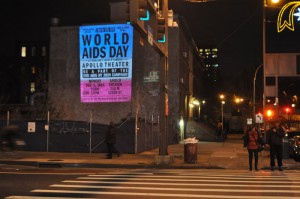 Today is World AIDS Day and this year we are commemorating the day with over 40 other organizations at Harlem's World Famous Apollo Theater—right in our backyard!
Together, we are committing to ending the AIDS epidemic—bringing new infections under "epidemic" levels—in New York by 2020. We won't be able to do this alone, but when we look back at the successes of 2014 that you've been a part of, we know that together, anything is possible!
---